2019 EMIRATES MOTORSPORT EXPO SALUTES NEW RACE SEASON
Motoring enthusiasts from around the region gathered in the race paddock at Dubai Autodrome on Friday (4 October) to enjoy a full day of motorsport activities at the 2019 Emirates Motorsport Expo (EME). The fourth edition of the event introduced guests to teams, competitors, vendors, championship managers and key stakeholders from the world of motorsport, which featured exhibitors representing all disciplines of motor racing available in the region, including go-karts, cars and motorbikes for both circuit and off-road racing. Keynote speakers from the Emirates Motorsport Organisation (EMSO), Dubai Autodrome and Yas Marina Circuit officially announced the 2019-2020 race season, along with featured delegates representing eleven different race series.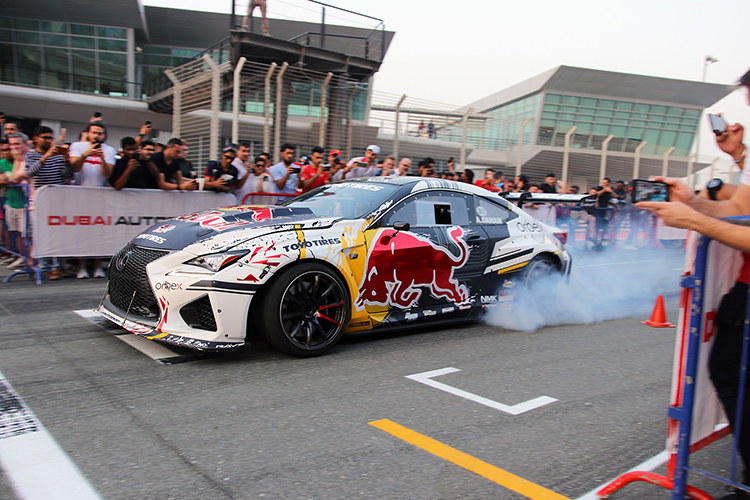 EMSO Press Conference 
EMSO CEO Mahir Badri, Dubai Autodrome General Manager Faisal Al Sahlawi and Yas Marina Circuit Deputy CEO Saif Al Noaimi commenced expo activities by welcoming media, motorsport representatives and guests. Race series for the 2019-2020 season were announced, with crowd favourites such as the Hankook 24H Dubai, the F4UAE Championship and the Porsche BWT Sprint Challenge Middle East set to return alongside new championships, the new NGK UAE ProCar Championship, which will feature GTs, Touring Cars and Prototypes all racing in the same grid, and the new National Sportsbike Super Series for competitors who prefer two wheels instead of four.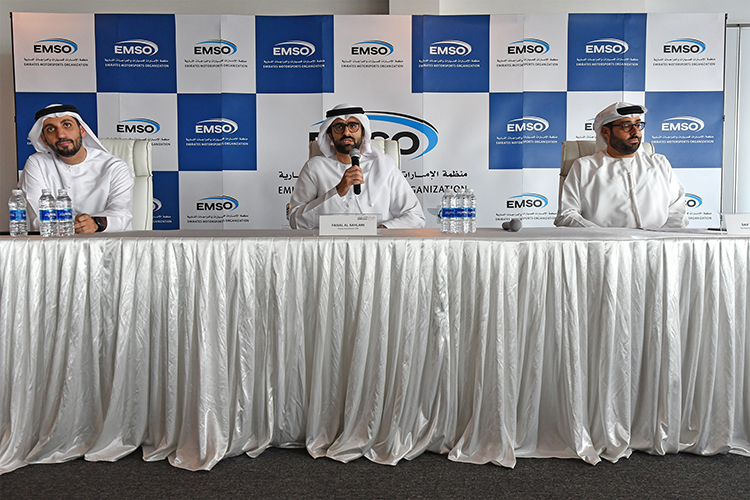 One of the most popular zones at the expo was created by Fiat Chrysler Automobiles (FCA), which housed car displays with Abarth, Alfa Romeo, Dodge, Fiat, Jeep, Mopar and Ram. Visitors to the FCA garage also got the rare opportunity to test drive the Abarth 595 Competizione, the Alfa Romeo Giulia Quadrifoglio and the Alfa Romeo Stelvio Quadrifoglio on the 2.46-kilometre Club Circuit at Dubai Autodrome. 
On another part of the track FCA operated another sought-after activity, a heart-pounding 'Drift Taxi' experience in either the Dodge Charger or Challenger on the 1.62-kilometre Hill Circuit. 
Expo guests could also book a range of Dubai Autodrome motorsport activities, including the Porsche GT4 Experience, the McLaren Sprint Experience, the Ferrari GT Experience, the Clio Cup Experience and Passenger Hot Laps. 
Even for visitors who didn't get on track, there was plenty of entertainment in the race paddock. Guests enjoyed radio-controlled (RC) racing, car displays, sim racing, food trucks and the unique opportunity to speak with local motorsport representatives. 
Dakar On Your Doorstep, newly created by Dakar veterans Sabertooth Motoring Adventure, introduced guests to the off-road world of Dakar. It showcased Nasser Al-Attiyah's 2017 Toyota Overdrive, a Dragon Energy Nissan Navara, a Dragon Energy Herrador Buggy and a wide range of desert support vehicles including a Mercedes Benz 6×6 Assistance Truck. Actual Dakar Rally crew were on-hand to chat with visitors. The acclaimed Power Hour Challenge returned as a main feature at the EME; it allowed spectators to get to up-close to an exclusive selection of race cars and motorbikes on track. 

The 2019 collection included a vintage Jaguar XK120, a Mitsubishi Pajero Evolution, a Ducati 959 Panigale, a Ducati Panigale V4, a Nissan GTR R35, a Nissan Silvia Drift Car, an Aprilia RSV4 RF, a Porsche Carrera GT, a Porsche GT2 1000, a BMW E30 M3 DTM Tribute, a Kawasaki 450 dirt bike, a Dakar winning Toyota Hilux T1, a classic Ford Mustang, a Harley Davidson cruiser, the new Toyota Supra, an Arrows F1 single-seater, a Subaru Impreza WRX STi, a Mercedes AMG GTS, and a thundering Lexus RC-F Drift Car.