Lean, Mean, and Ready to Scream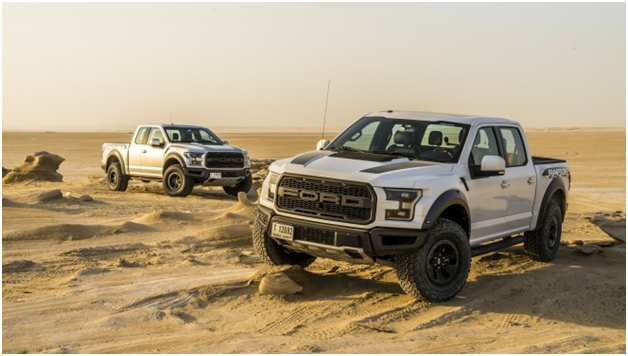 Ford introduces the all-new 2017 F-150 Raptor to the Middle East, adding agility, versatility and roominess to the toughest, most capable F-150 Raptor ever. Developed with the DNA of a Baja race truck, F-150 Raptor is unique among off-road and performance vehicles, with a purpose-built engine, chassis and suspension that enables it to travel fast over challenging desert landscapes or crawl over rocky terrain. Using the same high-strength, aluminium alloy body and a fully boxed high-strength steel frame as the current F-150 trucks, the 2017 Raptor is up to 227kg lighter than the 2014 model. The Raptor is more than 150mm wider than the standard F-150 for enhanced stability off-road. It also gets dual exhausts and new 17″ wheels with BFGoodrich All-Terrain tyres designed for off-road performance.
"Raptor was designed to be a no-compromise, off-road performance machine," said Thierry Sabbagh, managing director of Ford Middle East. "The 2017 Raptor is the best high-performance off-roading pick-up truck available, and as one of the most successful and popular trucks in the world, represents Ford's willingness to consistently sit on top of the truck food chain."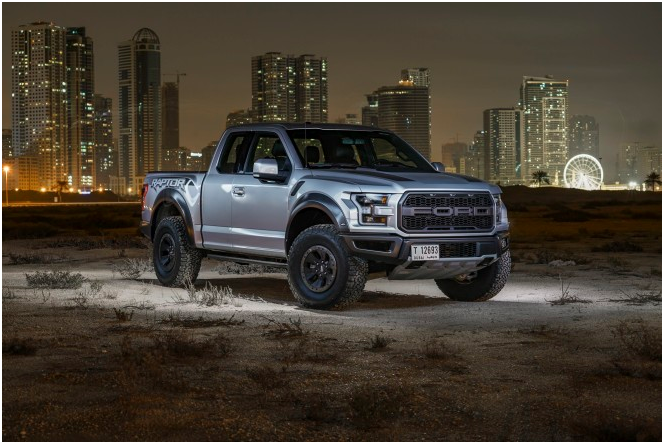 The second-generation high-output 3.5L EcoBoost engine – rated at 421hp and 678Nm of torque – produces more power with greater efficiency than the outgoing 6.2L V8, thanks to a new twin direct and port-fuel injection strategy, stronger and lighter crank and valvetrain components, a redesigned twin-turbo system with electronic wastegate, and a redesigned valvetrain and variable-displacement oil pump. Among the EcoBoost performance enhancements for Raptor are more aggressive turbo compressors with increased boost calibrations, cast stainless steel manifolds and full dual exhaust, oil-cooled pistons and more aggressive engine control calibrations. A new four wheel-drive system, torque-on-demand transfer case, with advanced off-road mode driver-assist technology, further improves the Raptor's performance. The Raptor's new transfer case, which manages power distribution between the front and rear wheels, combines the best attributes of clutch-driven, on-demand AWD with durable, mechanical-locking four-wheel drive to send power to the wheels in slippery conditions.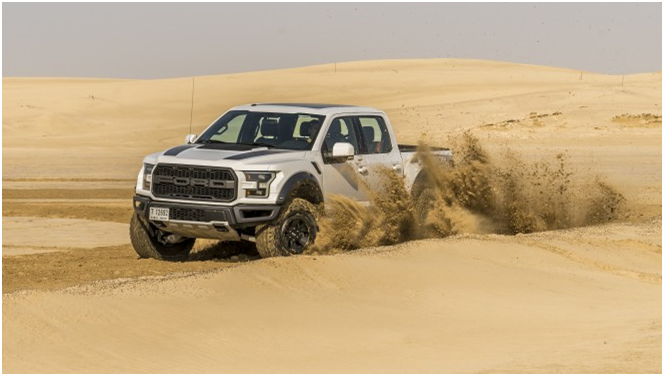 The new 10-speed automatic transmission, standard on the 2017 Raptor, features Auto Start-Stop and an integrated electric pump that improve driving efficiency. Raptor's adaptive shift algorithms monitor more than a dozen powertrain and driver control signals in real time – ensuring the right gear at the right time for an engaging driving experience, including normal, sport, weather, mud/sand, rock/crawl and Baja modes. In addition, a high-speed, one-way clutch allows for non-sequential shifting.